2017 Reidsville Business Showcase
Sponsored By
General Overview
The Reidsville Chamber of Commerce cordially invites your business to join us for the 10th Annual Reidsville Business Showcase to take advantage of a wonderful opportunity to promote your business. This year's Reidsville Business Showcase will be held October 18-19, 2017.
As business leaders we are all responsible for creating awareness of the products and services available within our community.
This year's Business Showcase is sponsored by Ameristaff Employment & Staffing Solutions. Theme is TBA.
As part of this year's Showcase, we are partnering with RCC and Rockingham County Schools to host a Career Fair. The Career Fair will be closed to the public, and will take place the morning of Thursday, October 19th. Juniors and Seniors from Rockingham Co. High School and Reidsville High School, who are not planning to attend 4-year colleges, will be targeted and put into 'Career Clusters' based on their interest. Chamber Members and local businesses will represent the various career clusters, as designated by the state curriculum. Students will be able to visit with, and participate in 'hands on activities' to be exposed to careers in their designated clusters. We want to let students know about the career opportunities Rockingham County has to offer! We encouorage all businesses (that are able) to participate in the Career Fair.
We look forward to your participation in the 2017 Reidsville Business Showcase!


VIP Night "A Taste of the Reidsville Chamber"
On Wednesday, October 18, 2017, the Reidsville Business Showcase will officially open with a Ribbon Cutting at 5:00PM, and will last until 7:30PM. This night is strictly for Business Showcase participant representatives and their invited guests. Each business that participates in the Business Showcase will receive 4 VIP Night tickets to give to whomever they please.
During VIP Night, attendees will have the opportunity to taste foods from restaurants and caterers in our region.
Restaurants/Caterers may participate in "A Taste of the Reidsville Chamber" free of charge, but must provide at least 250 food samples to taste.


General Public Night
On Thursday, October 19, 2017, the Reidsville Business Showcase will be open to the general public from 4:00PM-8:00PM. General Public Night is a great way to showcase what your business has to offer to participating businesses leaders, as well as hundreds of community members.
Restaurants/Caterers must pay $100 for a booth, and provide 350 food samples to taste to participate in General Public Night.
Free Community Shred
Shamrock Shredding will host a free Community Shred on Thursday, October 19th at 1606 Way Street (Site of Business Showcase) from 4:00-6:30pm.
Individuals may bring up to 5 boxes worth of shredable materiel! Curious about what size box you can bring? If you can pick it up, they'll shred it!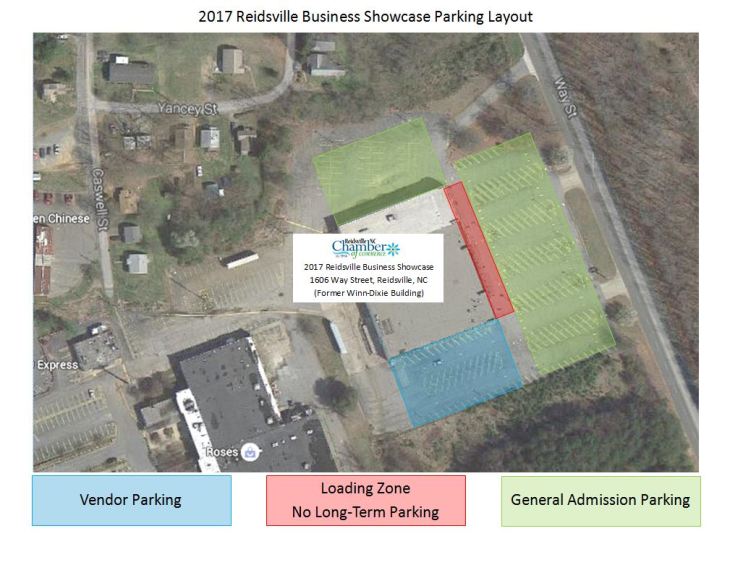 Schedule of Events

Wednesday, October 18, 2017
Set-Up: 10:00AM-4:00PM
Ribbon Cutting & Grand Opening: 5:00PM
Vendor Reception: 5:00PM-7:30PM


Thursday, October 19, 2017
Career Fair: 8:00AM-11:30AM (Tentatively)
General Public Attendance: 4:00PM-8:00PM
Vendor Dinner: 5:00PM-7:30PM


Booth Fees
Chamber-Member Booth: $250
Non-Member Booth: $300
*Non-Members receive $50 discount on first year's Chamber Membership if your business joins within 30 days after the event.